We've elected a new exec board! This page will be updated with the 2021-2022 board soon! 
The executive board of Slivka is a group of students that plans events for current residents, alumni, and faculty fellows. They are in charge of most events in the dorm, from the smaller daily events to the larger events like Slivka Formal. They are always happy to answer any questions you have about Slivka or anything else!
2020-2021
President: Dana Lurie
The President serves as the leader of the executive board and of Slivka in general. This means running both exec board meetings and house meetings, as well as generally being involved with most of the things Slivka does. Further, the President serves as the public face of the dorm. They are involved with the Residential College Board, which includes attending RCB meetings with the other 9 RC Presidents and representing Slivka there.
Hi, y'all! I'm Dana Lurie (class of 2021), one of precious few SESP students in this dorm! Don't let the "y'all" fool you, I'm actually from Connecticut. I'm majoring in Social Policy and minoring in Legal Studies, which means my future plans are "uhh be angry all the time" and "yell at people, except now I get paid for it." I love exploration-heavy games, sudoku, and wringing my hands at whatever crazy events my board decides to try. I spend most of my time in the Rec Lounge listening to video game music and reading for class, and you can recognize me by my truly wack number of laptop stickers. Feel free to interrupt at any time and say hello – I guarantee you're more interesting than my essays! (P.S. The poodle's name is Nova <3)
Contact: DanaLurie2021@u.northwestern.edu
---
Vice President: Conrad Burghardt
The Vice President oversees the Committees of Slivka, collects and maintains records of housing points, coordinates the non-resident membership system, communicates with the University regarding matters concerning non-residents and prospective students, and is second in the line of command should anything happen to the President.
Hey All, I'm Conrad, class of 2021, and studying for a major in Sociology and a minor in Psychology within Weinberg. I was born and raised in Evanston, less than 2 blocks from campus, so if you ever need advice regarding our town, I'm your guy. I'm our VP, so I handle our housing points system, non-residents, making sure we don't break our constitution, and screaming about the University Administration. Outside of my exec position, I can be found making my famous brownies in the Rec Lounge, definitely not being corrupt in my position as the President of A Cappella at Northwestern, or going into an existential crisis over memes. Whether it's the best dining in town, navigating our Libraries, Xenoblade lore speculation, managing the stresses of college life, or anything else at all, don't hesitate to reach out.
Contact: ConradBurghardt2021@u.northwestern.edu
---
Treasurer: Caryl Henry
The Treasurer's primary role is to ensure that the executive board and committees can disburse College funds according to the University's rules and regulations. To do so, their main responsibility is managing the College's account which requires them to document all monetary transactions for the Student Organization Finance Office. This documentation requires communication and coordination with the active members of the community who plan and execute Slivka's many events. It also provides the Treasurer with the knowledge to offer guidance for the rest of the executive board when establishing a quarterly budget.
Hello, hello! My name is Caryl and people think I'm good at bothering them for receipts so I am the all-powerful Treasurer once again. I'm a Computer Science major within McCormick, but I also have minors in Marketing, Psychology, and Design. Within Slivka, I'm known for wearing black all the time, but don't let the exec board picture on the home page fool you because I'm wearing Dana's yellow shirt and Jean's green pants. I'm also known for going to New Trier High School, which is just a 15 minute drive north of campus. I'm a huge Nintendo fan and have loved HGTV since fifth grade. If you want to watch House Hunters with me, you can find me in the Rec Lounge, Pres Suite, or 3rd floor of Mudd Library with about 90% accuracy. Warning: You may need to speak loudly because there's also a 90% chance that I'm listening to music with my earbuds in.
Contact: Removed because I was getting scam emails asking for money
---
Academic Chair: Leo Georgopoulos
The Academic Committee plans a variety of firesides, ranging from science and engineering to philosophy and art to karate and dance. These are led most of the time by student groups or professors, but some individual Slivkans have also helped host. Recently, the Committee has also tried to host more inter-RC firesides, through which students from various RCs can get to know each other. In addition to the firesides, the Committee organizes fun and educational trips (e.g. to museums).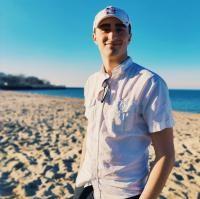 Hi everyone! My name is Leonidas (Leo) Georgopoulos and I am a Materials Science and Engineering Major in the class of 2022. I was born in Evanston and live in Chicago currently (yes, it is Chicago, do not listen to the haters), but for the last two years Slivka has become my home. My time is quite literally split between either being in class, working in lab, and messing around in the Slivka Rec Lounge. I may even be found reading a "childish" book that "everyone hates" on the Rec Lounge tv, or purchasing some *super awesome coloring books* for some *super wholesome Slivka events*, but I digress. So, if you're interested in Pokémon Go, walking around campus for stupid amounts of time, or anything Slivka related at all, do not hesitate to reach out!
Contact: leogeorgopoulos@u.northwestern.edu
---
Fellows Chair: Jean Selep
The Fellows Committee plans fun events that encourage Slivka residents to interact with Fellows. These events include Professor-2-Peer lunches, the Student/Faculty Reception, Saturday brunches, and small off-campus dinners with faculty. The Fellow-Liaison program is also implemented every quarter, where Slivkans have the opportunity to meet and form lasting friendships with the Fellows.
Hello hello! I'm Jean Selep, a senior in the dual degree program with McCormick and School of Communications studying computer engineering and radio/television/film (or RTVF if you're cool). I'm from Folsom, CA, but I'm doing a pretty good job at getting through Chicago winters, so if you need help with anything let me know and we can bond over banana bread. You will probably see me baking said banana bread in the rec lounge a lot, so don't be afraid to stop and chat about film, anime, animation in general, or Dungeons and Dragons!
Contact: jeanselep2021@u.northwestern.edu
---
Social Chair: Lillian Habing and Glory Aliu
The Social Committee is responsible for planning various types of activities for Slivkans to participate in. These activities range from board game nights to BBQs to karaoke to movie munchies. The Committee also teams up with the Treasurer to plan a Slivka formal, where Slivkans gather for a nice meal and dancing. The Committee's main goal is to get Slivkans together to have a good time.
Hi everyone! My name is Lillian (Lilly), and I'm currently majoring in Psychology and Global Health Studies and minoring in Legal Studies in the class of 2021. I'm from the small town of Milford, IL, or as I like to say the town of corn and beans. You can probably find me hanging out in the rec lounge doing homework or subjecting other Slivkans to watch "Lilly" movies (bad teen drama movies that everyone secretly loves). I am always down to play board games, watch god awful movies or TV shows, or just hang out. :)!
Contact: lillianhabing2021@u.northwestern.edu
---
Philanthropy Chair: Anna Stenger
The Philanthropy Committee organizes and plans philanthropic events for Slivkans. Though the primary events focus on fundraising for NU's Dance Marathon and The American Cancer Society's Relay for Life, Slivkans have many opportunities to get involved with the community, whether that means making sandwiches, assembling care packages, helping out at the community garden, or visiting the children's hospital. The Committee's most popular event is Bachelor Auction, which takes place each winter quarter and gives students a chance to share their talents and raise money for Northwestern's Dance Marathon team.
Hi friends! My name is Anna and I'm studying Biology and Psychology in the class of 2022. I was born here in Chicagoland but have been living in Colorado (best state) for 13 years now. I have a goldendoodle at home named Penny who I FaceTime every day; maybe you could say hi to her sometime! My daily workout routine includes getting out of bed, swiping on my phone, and playing Tetris (which I'd like to think I'm good at). I'd love to start up a conversation about Marvel or Star Wars, or just hang out. Also feel free to let me know why being pre-med is the worst thing I could do for my health. I am in the rec lounge more often than not, which might not be the best place to be productive, but that's where you can probably find me if you want to chat!
Contact: annastenger2022@u.northwestern.edu
---
Facilities Chair: Lucius Veiga
The Facilities Committee is responsible for setting up events. The Committee cares for the public areas of Slivka, including the music room, discovery room, kitchens, study areas, and recreation lounge. The Committee is also in charge of organizing events like pool and ping pong tournaments. Feel free to contact the Chair if you have any questions about how to use something or would like to see some new games on Slivka's shelves!
Hey there! They call me Lucius; I'm studying chemistry in the class of 2023. I was born in Minnesota but moved to the Pacific Northwest when I was a newborn, so beyond my fondness for green bean casserole, I don't think I can quite call myself a Midwesterner, yet. I'm more of a small-town Washingtonian, but I'm slowly getting used to city life and the Midwest. You can usually find me wandering around campus looking for shortcuts, loitering in the Rec Lounge, goblining for points, vibechecking people, or gerunding too much. I love playing Smash and Geocaching. Feel free to start up a conversation with me whenever you see me around; see you around!
Contact: luciusveiga2023@u.northwestern.edu
---
IT Chair: Cooper Gottschalk
The IT Chair has a number of responsibilities. In addition to maintaining Slivka's technology (both hardware and software), listservs, and website, IT hosts quirky events like egg drops, Amazon shopping competitions, finger painting, and Murder Mysteries. A favorite tradition is weekly "ITeas", where people come to the common spaces to make tea and study in a chill environment.
Hey, y'all! I'm Cooper Gottschalk, a member of the class of 2022 majoring in Computer Science. I'm was born in Houston, Texas, but I prefer states where I can walk outside without melting. I spend most of my time reading books, watching good television, watching garbage television, or trying to convince people to play weird obscure tabletop rpgs, but failing that, you can probably find me in the Rec Lounge. If play a board game or are interested in my Bad Tetris strategies, or if you just want to talk, hit me up – I'm always down to chat.
Contact: coopergottschalk2022@u.northwestern.edu
---
Publications Chair: Kayleigh Peng
The Publications Committee is responsible for maintaining records and archives, taking minutes of executive committee and house meetings, photographing events, and publishing the notoriously hilarious Bathroom Reader. As with all other members of the executive committee, the Publications Chair is a representative of Slivka and a role model for the residents therein.
Hey y'all! I'm Kayleigh (she/her), and I'm a biology and computer science major in Weinberg (Class of 2023). I was born in Cleveland, but Chicago has been my home for the past 14 years, so if you're wondering where to go in Chicago, I'm your person. Some things I enjoy doing in my free time include making intricate friendship bracelets, looking at terrible memes, bullet journaling, and playing my violin. At Northwestern, I can most likely be found messing around in the Slivka rec lounge, taking a yoga class at SPAC, or walking around campus playing Pokemon Go (thanks, Leo!). Feel free to talk to me about anything I mentioned earlier, or anything completely unrelated!
Contact: kayleighpeng2023@u.northwestern.edu