The executive board of Slivka is a group of students that plan events for current residents, alumni, and faculty fellows. They are in charge of most events in the dorm, from the smaller daily events to the larger events like Slivka Formal. They are always happy to answer any questions you have about Slivka or anything else!
2021-2022
President: Lucius Veiga
The President serves as the leader of the executive board and of Slivka in general. This means running both exec board meetings and house meetings, as well as generally being involved with most of the things Slivka does. Further, the President serves as the public face of the dorm. They are involved with the Residential College Board, which includes attending RCB meetings with the other 9 RC Presidents and representing Slivka there.
Hey there! They call me Lucius (he/him); I'm studying chemistry in the class of 2023. I was born in Minnesota but moved to the Pacific Northwest when I was a newborn, so beyond my fondness for green bean casserole, I don't think I can quite call myself a Midwesterner, yet. I'm more of a small-town Washingtonian, but I'm slowly getting used to city life and the Midwest. You can usually find me wandering around campus looking for shortcuts, loitering in the Rec Lounge, goblining for points, vibechecking people, or gerunding too much. I love playing Smash and Geocaching. Feel free to start up a conversation with me whenever you see me around; see you around!
---
Vice President: Leo Georgopoulos
The Vice President oversees the Committees of Slivka, collects and maintains records of housing points, coordinates the non-resident membership system, communicates with the University regarding matters concerning non-residents and prospective students, and is second in the line of command should anything happen to the President.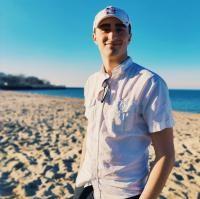 Hi everyone! My name is Leonidas (Leo) Georgopoulos (he/him) and I am a Materials Science and Engineering Major in the class of 2022. I was born in Evanston and live in Chicago currently (yes, it is Chicago, do not listen to the haters), but for the last two years Slivka has become my home. My time is quite literally split between either being in class, working in lab, and messing around in the Slivka Rec Lounge. So, if you're interested in Pokémon Go, walking around campus for stupid amounts of time, or anything Slivka related at all, do not hesitate to reach out!
---
Treasurer: Nathan White
The Treasurer's primary role is to ensure that the executive board and committees can disburse College funds according to the University's rules and regulations. To do so, their main responsibility is managing the College's account which requires them to document all monetary transactions for the Student Organization Finance Office. This documentation requires communication and coordination with the active members of the community who plan and execute Slivka's many events. It also provides the Treasurer with the knowledge to offer guidance for the rest of the executive board when establishing a quarterly budget.
Hi y'all, I'm Nathan White (he/him), a CS and Math major in the class 2022. While I'm a CS major, most of my coursework and research interests are mathematical (part of CS is essentially pure math) so you'd be forgiven for forgetting that I study CS. In short, I really like math, particularly algorithms. Some other things I like to do include spending too much time walking around Tech or the North Shore, using neovim and LaTeX for things they were not developed for, and obsessing over German politics. Pre-pandemic, I could almost always be found in the rec lounge "doing work," but for now I can be reached by email (with an address you can look up in the NU directory) or Discord. So, if you want to discuss approximation algorithms for set cover or anything Slivka related, don't hesitate to reach out!
---
Academic Chair: Olivia Johansson
The Academic Committee plans a variety of firesides, ranging from science and engineering to philosophy and art to karate and dance. These are led most of the time by student groups or professors, but some individual Slivkans have also helped host. Recently, the Committee has also tried to host more inter-RC firesides, through which students from various RCs can get to know each other. In addition to the firesides, the Committee organizes fun and educational trips (e.g. to museums).
Hi Y'all! My name is Olivia Johansson (she/her) and I'm a third year studying Manufacturing and Design Engineering. I'm from Alexandria, Virginia and thus have many opinions about Washington, D.C. traffic patterns. As a respite from the busy highways, I spend many summers canoeing in the BWCA. In my free time, I work as a shop trainer, watch aggressive amounts of Jeopardy, play D&D, and crochet. You can find me concocting cursed baked goods in the Rec Lounge kitchen and having a good time riding to the dining hall in a Slivka shopping cart. If you want to know about my favorite doors in Tech (it's the Boat Door) or just want to get a general vibe of Slivka/NU, please email me!
---
Fellows Chair: Andy Granath
The Fellows Committee plans fun events that encourage Slivka residents to interact with Fellows. These events include Professor-2-Peer lunches, the Student/Faculty Reception, Saturday brunches, and small off-campus dinners with faculty. The Fellow-Liaison program is also implemented every quarter, where Slivkans have the opportunity to meet and form lasting friendships with the Fellows.
Hi! My name is Andy Granath (he/him) and I'm a second year studying civil engineering. I'm from Rockford, IL and have spent my whole life around Northern Illinois and Wisconsin. I like to spend my time working on projects around my house and woodworking in my small woodshop back at home. I work for Medill and you can sometimes find me ranting about how their google sheet should not have the right to be called a database. Around Slivka, I like to watch TV in my suite and hang out in the rec lounge. If you want to learn more about the wonderful world of civil engineering or how to build things for your DTC projects, please Email me!
---
Social Chair: Justin Chen
The Social Committee is responsible for planning various types of activities for Slivkans to participate in. These activities range from board game nights to BBQs to karaoke to movie munchies. The Committee also teams up with the Treasurer to plan a Slivka formal, where Slivkans gather for a nice meal and dancing. The Committee's main goal is to get Slivkans together to have a good time.
Hey everybody! My name is Justin Chen (he/him) and I'm studying Industrial Engineering in the class 2023. I was born and raised Chicago all my life (actual Chicago, not the suburbs) , so if you need a recommendation about Chicago, let me know! If I'm not currently suffering from classes, I'll probably be in the rec lounge suffering from the thought of classes. I also really love cooking so if you want to share recipes or hacks, feel free to reach out!
---
Philanthropy Chair: Katherine Brown
The Philanthropy Committee organizes and plans philanthropic events for Slivkans. Though the primary events focus on fundraising for NU's Dance Marathon and The American Cancer Society's Relay for Life, Slivkans have many opportunities to get involved with the community, whether that means making sandwiches, assembling care packages, helping out at the community garden, or visiting the children's hospital. The Committee's most popular event is Bachelor Auction, which takes place each winter quarter and gives students a chance to share their talents and raise money for Northwestern's Dance Marathon team.
Hi, I'm Katherine (she/her)! Bio coming soon
---
Facilities Chair: Abdul-Rahman Smari
The Facilities Committee is responsible for setting up events. The Committee cares for the public areas of Slivka, including the music room, discovery room, kitchens, study areas, and recreation lounge. The Committee is also in charge of organizing events like pool and ping pong tournaments. Feel free to contact the Chair if you have any questions about how to use something or would like to see some new games on Slivka's shelves!
Hi, I'm Abdul (he/him)! Bio coming soon!
---
IT Chair: Rae MacCarthy
The IT Chair has a number of responsibilities. In addition to maintaining Slivka's technology (both hardware and software), listservs, and website, IT hosts quirky events like egg drops, Amazon shopping competitions, finger painting, and Murder Mysteries. A favorite tradition is weekly "ITeas", where people come to the common spaces to make tea and study in a chill environment.

Greetings and Salutations! I'm Rae MacCarthy (they/them), class of '23, majoring in Mechanical Engineering with a certificate in Design. I'm from Boulder, Colorado. I play a lot of Tabletop Games. A whole lot. So many, in fact, that I'm also on the exec board for Northwestern's TTRPG Club. Come talk to me about games! I have many thoughts, and chances are relatively good I'm in the rec lounge. Unrelated to TTRPGS, I also really like fixing things, attempting to build furniture out of garbage, and doing art. That animated Long Furby sticker you can find by searching @slivkarc in the gif menu on Instagram or Snapchat? That was me. He's my proudest creation. Anyways, if this rambling mess hasn't already scared you off, I'm happy to answer any questions you might have about IT committee and Slivka more generally.
---
Publications Chair: Jessy Kong
The Publications Committee is responsible for maintaining records and archives, taking minutes of executive committee and house meetings, photographing events, and publishing the notoriously hilarious Bathroom Reader. As with all other members of the executive committee, the Publications Chair is a representative of Slivka and a role model for the residents therein.
HI! My name is Jessy (she/her) and I am a biomedical engineering student in the class of 2022. I was born in Guangzhou, China but moved to Appleton, WI when I was about 3 years old. I speak Cantonese and I'd be extremely excited to meet you if you also speak it. I love doing things like drawing on my tablet, playing Minecraft, walking around Evanston, and cooking! I do all these things to relax from the stress of school, and would love for people to join me on walks. I am currently seen in the Slivkord wreaking havoc on the daily because the rec lounge is unavailable. I am also constantly racking my brain on what Instagram posts to make for the dorm's page (@SlivkaRC). If you ever want silly Tiktoks or memes I like sent to you, just let me know!